Welcome to the HHMS-AGEP Alliance ___ An HBCU Alliance, formed with the purpose of developing and testing a training model to increase the number of underrepresented minorities (URMs) entering and succeeding in the professoriate.  The research component of the model will elucidate various background, social cognitive, cultural and institutional climate factors that uniquely affect students at HBCUs.  Data from this research will inform the development and implementation of training programs to increase teaching self-efficacy and its natural corollary a strong faculty identity ___ necessary prerequisites for entering and succeeding in faculty careers.
---
Reasons to Join the Alliance
Howard, Hampton, and Morgan State Universities (HHMS), three of the Nation's top producers of African American PhDs, have joined forces with the Community College Network, comprised of Prince George's Community College, University of the District of Columbia Community College, Thomas Nelson Community College, and the Community College of Rhode Island to form the HHMS-AGEP Alliance. The HHMS-AGEP Alliance proposes to develop, implement, and evaluate a sequential and cognitive apprenticeship model to increase the number of URMS in STEM disciplines (Physics, Chemistry, Engineering Mathematics) entering and succeeding in the professoriate. The Social Cognitive Career Theory (SCCT) provides the theoretical framework for this Model, which is designed to increase teaching self-efficacy and faculty identity — two strong predictors of a commitment to pursuing an academic career. The proposed sequential model integrates theoretical knowledge gained in the classroom with the practical experience obtained during the teaching apprenticeship, allowing for an authentic context-based learning experience—basic prerequisites for teaching excellence. To delineate more precisely the issues affecting the transition of URM graduate students into the scholastic profession the Social Science Research Component of this proposal examines social factors impacting outcomes in real-time, providing theoretical and empirical insight into key drivers that support, influence, and strengthen the desire and readiness of URM STEM doctoral students attending HBCUs who enter and succeed in the professoriate.
The HHMS-AGEP Fellowship Provides Opportunities
A clear and defined path to the professoriate.
A vibrant community of colleagues on the same path.
A Graduate Certificate in College and University Faculty Preparation (Free).
A travel stipend to present research.
Have an individualized teaching mentoring experience by a seasoned faculty in your discipline.
Teach at a different institutional type.
Register for courses to improve your pedagogical skills and competencies.
Conduct educational research projects.
Meet Some of the Fellows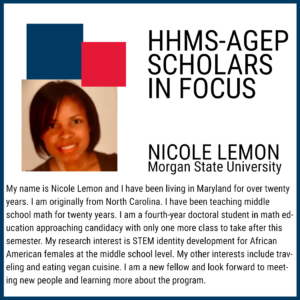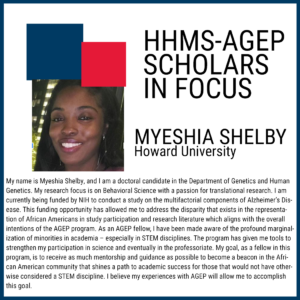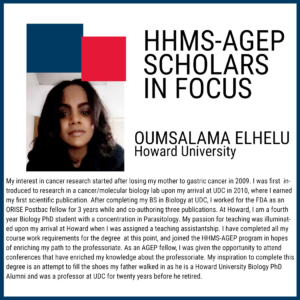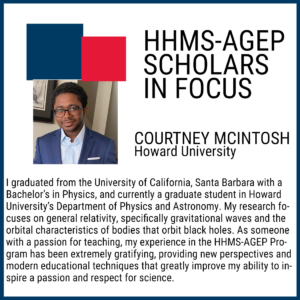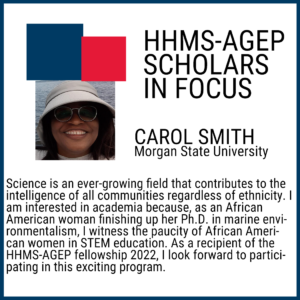 Training Based on The Sequential and Cognitive-Apprentice Model